Table Setting How To Guide 
Welcome to the Fall home tour!  If you came from Charlotte's Happy Home, hey y'all! I love her pumpkin filled table.  I hope you enjoy my farmhouse fresh tablescape for Fall, too! 

The Bee and Willow line at Bed Bath & Beyond is a beautiful mix of rustic and modern charm perfect for creating a simple, yet elegant home.  Everything you see on the table is from the collection, but all opinions are my own. I love to entertain with family and friends, but I always keep it casual!  The most important thing at your table is the people across from you.  Therefore, I don't pay attention to too many formal rules. Anyways, let's style a fall tablescape, y'all!
Table Setting: How to Choose a Centerpiece
When styling a table, the first thing I do is choose a theme or color scheme.  For example, I chose to create a neutral Fall tablescape with a fresh farmhouse feel. First, lay down a table runner that coordinates with your napkins or dishes.  I love that the Bee & Willow line has a mix of floral and plaid patterns that work well individually or together.  (Double win: the runner is double sided with two patterns.) Next, choose your centerpiece.  For example, I like to use fresh flowers in tall vases. For a round table, I would opt for one. However, for my long table, two flower filled vases balances the space.  These Bee & Willow wire wrapped hurricane candle holders can double as vases and add a simple farmhouse touch. Last, I place a few pumpkins down the center of the table for a seasonal touch.  Specifically, I used one large and two medium sized pumpkins to balance the space.  Adding in a few natural elements like flowers, greenery and pumpkins makes the space feel fresh and lively.
Table Setting: How to Set the Dining Table
I love to layer different textures.  The wicker charger adds a perfect fall vibe and contrasts well with the white dishes! They are so affordable, too. Y'all know that I love classic white dishes.  Next, add some pattern and color with table linens. Lastly, place something unexpected like a little pumpkin at each place setting. Again, I don't follow too many rules, but forks on the left and knives and spoons on the right!  Napkins can be folded and placed to the left or on the plate.  However, if you want to have a little fun, place the folded napkin under the soup bowl or salad plate for a pop of color. In addition, napkin rings add another textural element and can be placed on the left!  Surprisingly, mine are on the right because I thought it looked better!  Do you!
Table Setting: How To Style the Buffet Table
In most dining rooms, a buffet table is used to hold dishes or food. You may also hear it called a sideboard or console table. If you are looking for ways to decorate  a console table with shelves, check out this blog post. In casual dinner settings, a buffet table can be used to serve the main course, act as a dessert or drink station. I like to place additional mugs for coffee or hot cocoa on the buffet table during the Fall and Winter.  With this in mind, style the table according to your needs and leave plenty of room for food, drinks, and serving ware.
Table Setting: How To Achieve This Look
It's simple! Shop the items below from Bed Bath & Beyond.  Add pumpkins and flowers!
Bee and Willow Willow Charger
Bee & Willow™ Home Milbrook 16 piece Dinnerware Set
Bee & Willow™ Home Milbrook Satin Dinner Fork & Spoon
Bee & Willow™ Home Milbrook Bubble Highball Glass
Bee & Willow™ Home Reversible Autumn Floral Table Runner and Napkins in Natural
Bee & Willow™ Home Wire-Wrapped Glass Hurricane Candle Holders
Bee & Willow™ White Tabletop Pumpkin
Bee & Willow™ Home Vintage Plaid Throw Blanket in Ivory
For More Fall Inspiration…
Visit each of my friends' blogs below! There is fall inspiration for any style.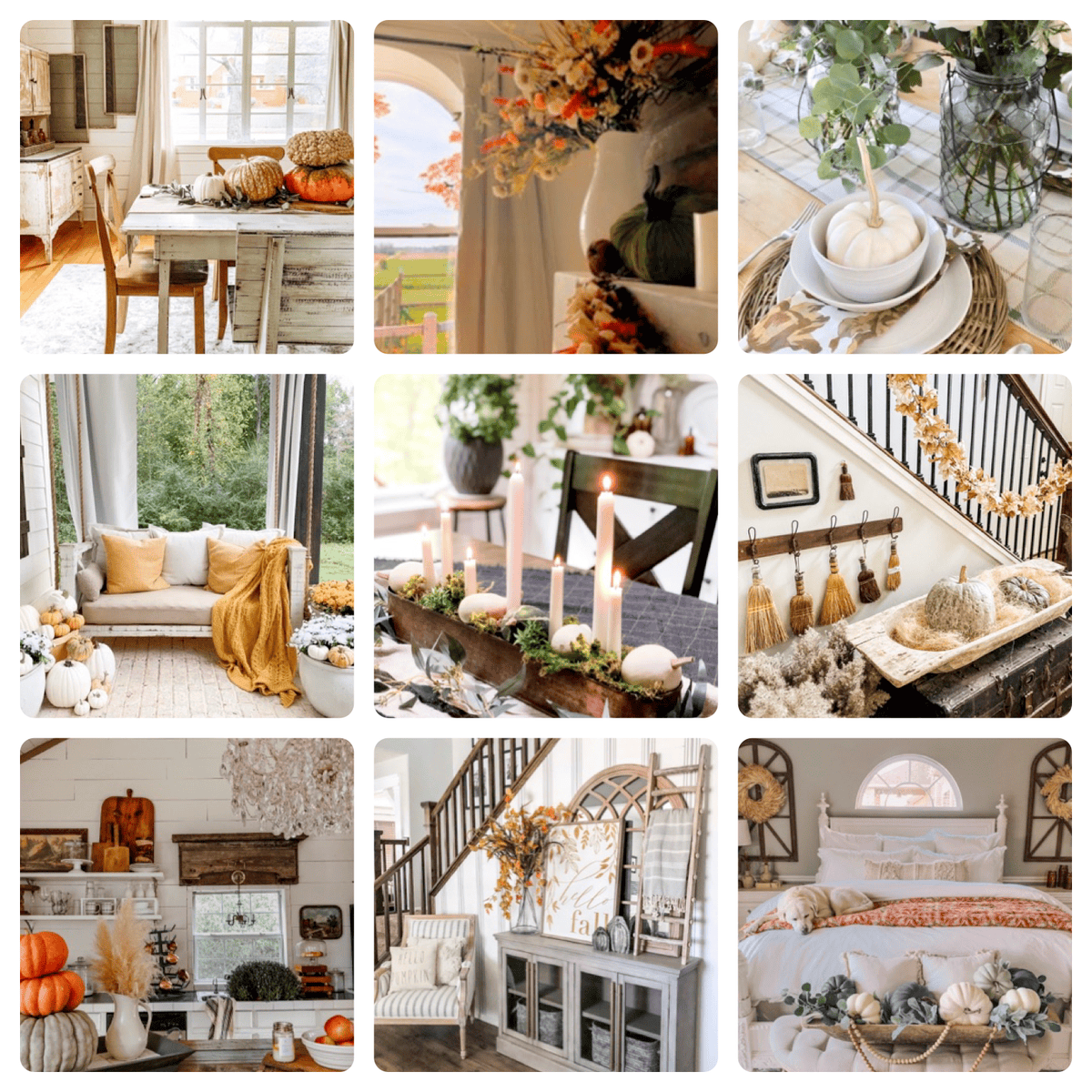 Charlotte's Happy Home | Cuter Tudor | Designs by Karan
Grace In My Space | Grey Birch Designs | Karlee Bowman
Life By Leanna | My Georgian Farmhouse | Selah Pines Farmhouse
Thank you for stopping by the Cuter Tudor Blog!  Please save this post to your fall inspiration board on Pinterest or share the post with friends on Facebook!  Most importantly, head to Karan's blog, Designs by Karan, to check out her living room styled with traditional fall colors. Happy Fall, y'all.